Opinel No.08 Stainless Steel Folding Pocket Knife
Reviews
Based on 143 reviews from opinel-usa.com, amazon.com, rei.com, and more.
Review Highlights
Great for the price
Knife is well made and sturdy
Easy to sharpen the blade with a stone or steel
Handle is comfortable in your hand
It comes with a lanyard
Prices
Reviews by Topic
Our analysis shows how reviewers feel about different topics.
The smaller Opinels (nos. 2-5) lack the Virobloc ring, but with a blade as large as the one on the No.8, I think the lock is necessary.
From cooking to whittling it does it all. Warning : This is razor sharp out if the box. Be aware ofbthat fact. I first used it to cut french bread at a catered lunch while on a course
Negative
Iain Sloan
2 years ago
The handle is a sort of piscine shape, with a gentle curve instead of aggressive scalloping or finger grooves, and this, along with its round shape, make for an excellent knife in the hand. It's really a 'grip-neutral' knife: it works equally well in all grips. The spine of the blade is flat, allowing for a place to put your thumb for extra control, and the flat butt-end of the knife creates a good spot for your thumb in a reverse grip.
The No. 8 is comprised of just five pieces: the blade, the wooden handle, a steel collar around the pivot, a pin to keep that collar in place, and the rotating Virobloc locking ring, which fits over the steel collar. It's a hoary old quote, but since it's from a French writer and we're talking about a French knife, it seems appropriate: Antoine de St-Exupéry once said that "A designer knows he has achieved perfection not when there is nothing left to add, but when there is nothing left to take away." The five parts of the Opinel are all integral to its function; a single addition would be superfluous, and a single subtraction would impact performance
It's got a little leather lanyard, it came with there. It is made in France, France, the opinel website, open Elcom, and then here is your number eight natural. It says here on the ticket and it also gives you a number eight. I'M not sure if you could see it too good in this video, but it tells you right here on the on the knife that it's a number 8 and it says made in France not sure if the lights, picking that up it looks like it is, this Is the ein ox stainless steel blade? There's the famous OpenAL open three finger open two finger closed hand with the crown and there's some history behind that and again, let's come back and I receive this from my birthday, so my initials are engraved in it and it's just a really nice really nice knife That I'm going to cherish and that I'm going to start carrying - and it's also a very practical knife, as you can see here, I'll just do a little quick carving here, a great knife to have around the campsite
It looks a lot nicer than a polymer polymer handled knife, wood and so in the context here, depending on the situation and the kind of ambiance. What you're trying to set the optimal number, eight or they're an entire line of knives, the very small ones too, significantly larger than the number eight they have an old-world fit finish, feel and look, and so I like that, it kind of complements this kind of a Situation is kind of a fruit plate or cheese plate that I'm setting up here, and so, if you're, looking for that for indoor cooking at $ 12, you know very affordable, very useful and a knife that I really enjoyed using today and one that I would highly Recommend to you, however, if you're looking for an outdoor review may be more of a bushcrafting review less of a cooking review. I would encourage you to subscribe to my channel because that review on the open mail number eight is coming out soon. Thank you very much for your views and your subscriptions
Video Reviews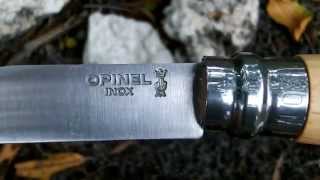 Opinel No. 8 Folding Knife Review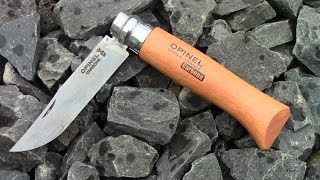 Opinel No. 8 "Full Review" by TheGearTester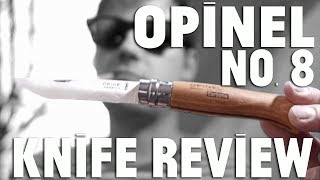 Opinel No 8 Folding Knife Review. Un Product Film de Jean ...