CRKT Pilar III Frame Lock
Reviews
Based on 60 reviews from amazon.com, smkw.com, and youtube.com.
Review Highlights
Great for EDC
Feels good in hand
Very sharp blade
Nice design
Good for slicing and chopping
Prices
Video Reviews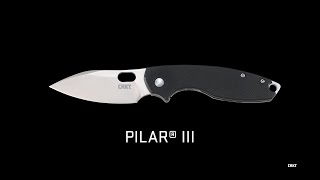 CRKT PILAR® III | Jesper Voxnaes Design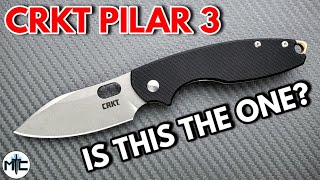 CRKT Pilar 3 Folding Knife - Overview and Review - WAY Better!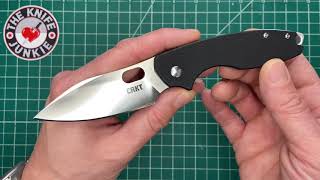 The New CRKT Pilar 3 - Another Voxnaes Designed EDC ...
Reddit Discussion
r/EDC • Posted by
u/BirdTog
6 months ago
Second the Pilar III as a great alternative to the two you listed. Even the original Pilar is a great smaller knife, and Blade HQ still has their D2 blade / brown linen Micarta scale exclusive in stock for $45.
Reviews by Topic
Our analysis shows how reviewers feel about different topics.
Okay the action on this blade is crazy almost cut my fingernail twice and of course super fast shipping like always
The blade is centered when folded and all the parts fit together reasonably well and flush. It is worth noting that I have owned other CRKT knives and the build quality has been poor in some cases. For less than $30 I think this is a great knife. I really like how compact it is while still allowing a full grip
In jeans it's not obvious, and perhaps a pair of thicker dockers would be okay - but not thin dress pants. Here's where I struggle - I have a shoulder bag I carry. For there, I don't need a super small knife, but weight does matter. So it's totally wrong there - I want larger but lighter
When you get this knife you get a nice easy to open and easy to close frame lock that will meet most everyday tasks.
Out of the box it was sharp enough to shave hair but just barely. The edge did not live too long with daily cutting chores given the Chinese steel but its is easy enough to sharpen and can take a very good edge. All in all it's a solid buy for the money. You won't be disappointed in it just wish it had some better blade steel options
I wish that this area was cut out just a little bit more right, and i wish it didn't, have any lock stick and then i think the better job they did knocking down this area would feel even better on my thumb, but is it that big of A deal no moving on here. Let's talk about the blade um, this is uh. I said. One thing i still don't understand is why they insist on doing such a thick blade stock