Zero Tolerance Sinkevich 0450
Reviews
Based on 103 reviews from amazon.com, zt.kaiusa.com, cabelas.com, and more.
Review Highlights
Great for EDC
Lightweight
Lightning fast to open
Perfectly legal in all states
Extremely sharp right out of the box
Prices
Reviews by Topic
Our analysis shows how reviewers feel about different topics.
However, trading some sliciness for durability isn't exactly Faustian as long as cutting performance is still the favored attribute to some degree, and the 0450 meets this criterion. It's best-suited for medium-duty tasks like cutting through cardboard or plastic, but you aren't going to hate slicing food with it either. It works.
.. I ruled out the carbon fiber so fast it wasn't even funny. The stone washed titanium gives me the feeling that I can actually use my knife and not worry about it getting scratched
So I don't know where I come down on this. The way it appears the knife is designed to be held isn't natural, and the way it seems natural to hold it doesn't feel right, even if it isn't intolerable. At the end of the day I guess I'm okay with this handle, because it allows for a very slim and stylish profile, and going into it you know the 0450 isn't going to be an ergonomic masterpiece.
One of my biggest ergonomic pet peeves is when a knife has a beak or a scoop at the butt end of its handle that either doesn't accommodate all four fingers ahead of it, or that makes my fingers feel crammed because it ushers them too close together. I really want this issue to become the Too Many Finger Grooves of 2017, because it nearly ruined the Para 3 for me and designers need to stop doing it.
Very sharp, clean looking. This is my 3 rd ZT all made very well. Smooth operation, great for a smaller pocket knife
Positive
rysin
7 months ago
To be honest, I was, I was quite surprised. You know, despite the fact that it's very small, it's still comfortable in the hand, excellent ergonomics still has that ZT tank-like build its and it's fairly easy to manipulate, even with my extra large hands so yeah. This thing can pretty much disappear in my hand, so anyways. I was surprised it's excellent
A nice lightweight, it's just so damn much good here and aside from being a little bit murder a little big behind the edge. The 450 CF here is is really excellent and for the price of 180 bucks y'all are pressed to find a really a better knife in terms of a small flipper sort of action. But the thing is, there are other great options in the 450 family. Overall, if you want to pay a little less, you can get the titanium version and that's 160 bucks and that's really really hard to beat that price is actually pretty damn good
Video Reviews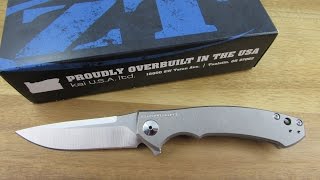 ZT 0450 Knife Review
The ZT 0450CF (and 0450) Pocketknife: The Full Nick ...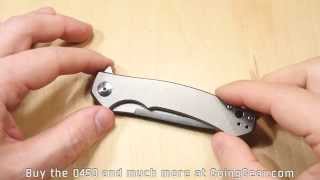 Zero Tolerance 0450 Knife Review - Sinkevich Design